dimanche, juillet 08, 2012
Definition:
-A-

Abondance relative des espèces: Quantité relative au nombre d'individus d'une espèce donnée par unité de surface ou de volume par rapport au nombre total d'individus de toutes espèces confondues.
-B-
Biodiversité: est la diversité naturelle des organismes vivants
Les pincons de Darwin (Galapagos) illustrent l'évolution
de la biodiversité par radiation évolutive
-D-

Diversité spécifique (indice de diversité H de Shannon) /// The species diversity (Shannon's diversity index H)
-F-

Fisher's alpha index: c'est un indice de divérsité, définie implicitement par :
/// a diversity index, defined implicitly by : S= αln(1+N/α)
S = number of taxa, N= number of individuals, α = Fisher's alpha.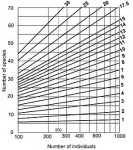 Graph to determine values of α-Fisher diversity index
(numbers in bold) from the number of species and
number of individuals in assemblage (Muray, 2006)
-R-

Richesse spécifique: (nombre d'espèces présentes dans un espace considéré ) est une mesure de la biodiversité /// The species richness (the number of species in study area)
-S-

Systématique: est la science qui a pour objet de dénombrer et de classer les taxons dans un certain ordre, basé sur des principes divers.
****************

Références
MESURES DE LA BIODIVERSITE , Eric Marcon 07/09/2011
Sylvie Vanpeene-Bruhier et al (1998). La richesse spécifique : un outil pour la prise en compte de la biodiversité dans la gestion de l'espace. Application en Haute Maurienne (Aussois, Savoie). Ingénieries – EAT – N° 15, 47 - 59
LECKIE R.M. and OLSON H.C. (2003). Micropaleontologic Proxies for Sea-Level Change and Stratigraphic Discontinuities. SEPM (Society for Sedimentary Geology) Special Publication No. 75, ISBN 1-56576-084-0, p. 5–19.
Fisher, R A; A S Corbet; C B Williams. 1943. The relation between the number of species and the number of individuals in a random sample of an animal population. J Animal Ecology 12:42-58.
Murray J.W. (2006). Ecology And Applications of Benthic Foraminifera. Cambridge University Press, 1-426.
Liens utiles
http://folk.uio.no/ohammer/past/diversity.html
http://www.cons-dev.org/elearning/conspatnat/T1/BIOENVNAT/Divcosyst.html
books?id=yKQBXbxl_UgC&pg=PA267&lpg=PA267&dq=%CE%B1-Fisher+Murray,